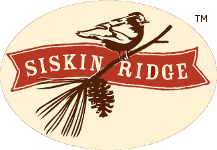 Siskin Ridge™ Roundwood and ELWd™ Habitats
The Siskin Ridge™ brand of roundwood products and materials is part of a larger movement to preserve and protect forests and rural communities. Siskin Ridge™ brand roundwood poles, rustic wood landscape and patio products provide a lifestyle connection between people and nature.
ELWd™ habitat and bioengineering structures enable low-tech construction and installation of fish and wildlife habitat features in rivers, streams, wetlands, and uplands. Specialized ELWd™ structures enhance residential landscapes for watchable backyard wildlife.
For more information, visit www.siskinridge.com