The Early Years: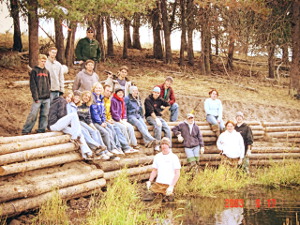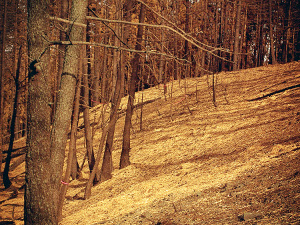 Forest Concepts, LLC was incorporated as a limited liability company in December 1998. Company co-founders Jocko Burks, Jim Dooley, Kari Paulson, and Ken Chisholm believed that significant commercial opportunity existed to invent, manufacture and sell environmental restoration products that utilize small diameter timber and other non-merchantable woody biomass as their raw material.
Forest Concepts was founded with the simple ecological mission to make it easier to do salmon habitat restoration in urban and suburban areas of the Pacific Northwest. Our launch product in 1998 became known as engineered large woody debris. ELWd™ (pronounced "el-wood") structures are designed to accommodate readily available wood materials, low-tech manufacturing methods, and work-crew-based installation. ELWd™ habitat and bioengineering products were rapidly adopted across the Pacific Northwest for salmon habitat enhancement, spotted owl food chain support, and for amphibian habitat in wetlands. ELWd™ structures (US Patents 5,823,710, 6,402,426) combine sound science with disciplined engineering to replicate the functionality of native woody debris and downed logs for wildlife habitat enhancement on burned-over lands, wildlife preserves, naturescapes, wetlands, and similar applications.
Our work with wildland restoration specialists identified a need for highly effective, long lasting erosion control materials to replace agricultural straw mulch. Experts at the US Forest Service, BLM, BIA and the erosion control industry cooperatively developed performance criteria that included: 4-year life, wind stability, weed-seed free, rainfall erosion control, and revegetation objectives. Our proposed wood-strand solution was competitively awarded a contract by USDA. The science behind WoodStraw® was jointly developed by us and the USFS Rocky Mountain Research Station in Moscow, ID under funding from the Forest Service and the USDA-CSREES-SBIR program. After four years of research and development, WoodStraw® wood-strand mulch was proven through laboratory and field studies that resulted in peer-reviewed publications. Commercially released in 2005, WoodStraw® erosion control material is designed for use in fire rehabilitation, wildland construction, watershed restoration as well as road/trail/mine/pipeline construction and decommissioning. WoodStraw® (U.S. Pat. 6,729,068) materials exceed the functionality of agricultural straw without the risk of introducing noxious weeds, pesticides, and non-native materials to wildlands.
At the time the WoodStraw® development program was moving from R&D to commercialization, the second Bush administration launched a major federal initiative to develop biofuels derived from cellulosic feedstocks. Agency leaders in DOE and USDA encouraged us to submit proposals to the problems of collecting, processing, and converting forest and urban biomass into bioenergy.
The Recent Years: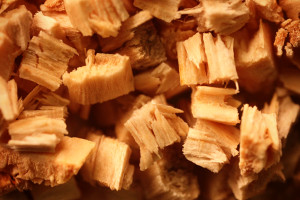 Our work with bioenergy feedstocks began in 2005 when we were awarded a USDA SBIR contract to analyze the problem of collecting and delivering urban woody biomass to distant bioenergy facilities. Our proposed solution was to adapt our deep understanding of baling WoodStraw® wood strands to the challenge of baling brush and other woody biomass. If we could bale urban and suburban arborist prunings, they could be handled just like cardboard, newspaper, and other urban recyclables. Replacing urban wood chippers with balers would also improve worker safety while reducing noise and dust pollution.
A Phase II USDA SBIR contract was awarded to us in 2006 to develop the science and engineering design data to enable baling, handling and transportation of cellulosic biomass. By early 2008, we completed construction of a street-legal prototype biomass baler that was fully instrumented for validation or our science and engineering. The resulting knowledge was extended to the problem of producing high density bales of agricultural residues and dedicated energy crops.